John "J-Dogg" McLean

Age: 22

Descrip: 6'0", Long black hair and green eyes.

Hometown: Toronto

Nickname: J-Dogg, Jay, JD

Occupation: Local hip-hop artist who just signed on with an independent record label and is planning on going on tour in the next year.

Education: dropped out of high school in grade 11

Interests: Music, photography, cars, collecting collectable spoons.
Looks for: someone who is artistic, decent who has a direction in life, preferable older and attractive.

Previous Dating History:
Just came out of a long-term relationship.

Reason for being on the show: Wants to find a woman without children and/or have all their teeth -- preferably not gold.

Personality: Outgoing, smooth talker, sarcastic, witty, cracks jokes all the time.


8:00pm ET: J-Dogg & Sarah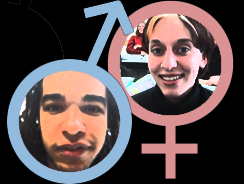 Sarah Peterson

Age: 24

Descrip: 5'3", short brown hair, brown eyes.

Hometown: Ottawa

Occupation: Waitress part time

Education: Getting masters in Art History at Carlton University

Interests: music, plays piano and guitar, enjoys watching hockey, collecting cow figurines.

Looks for: someone who is intelligent, spontaneous, fun and who has an edge to them.

Personality traits: Conservative, has a hidden wild side, intelligent

Previous Dating History: Dated an extra from S club seven but that fell apart after a few months. Has been single for five and a half months.

Reason for being on show: Friends set her up as a dare before her 25th birthday.

Interesting facts: Likes chocolate but not candy, fetish for eyes and elbows, has a repetitive speech problem.